NIPPON TECHNOLOGY SOLUTION CO., LTD.
PRODUCT INFORMATION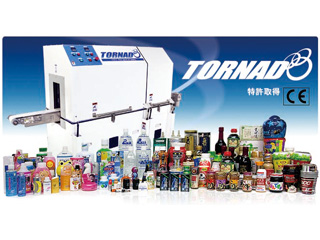 The innovative swirling hot air shrink machine "TORNADO"
NIPPON TECHNOLOGY SOLUTION CO., LTD.
FEATURES
TORNADO® is a shrink machine that blows hot air from 4 directions makes tornado effect. The tornado effect allows for thinner container walls and shrink films. In addition, it will be able to shrink wrap powdery, dry, chemical, and cosmetic products.
We have provided it more than 800 customers both domestic and international especially market.
1."Tornado method" gives crisp finish
Conventional hot air tunnels generate an air current from the side, often causing wrinkles on the front and back ends of the job. The "Tornado method" discharges hot air from 4 sides, literally creating a tornado effect within the tunnel. It results in smooth and uniform packaging, achieving a beautiful finish, equivalent to that of steam shrink packaging.
2.The hot air circulating mechanism reduces costs!
The hot air circulating mechanism controls the heat and airflow through circulation of the hot air. After the hot air tunnel has warmed up, the circulating mechanism eliminates the need to warm air drawn in from the outside. It consumes about 2/3 of the conventional system electricity. (Internal comparison)
3.Easy to maintain and operate
With wide variety, small lot productions being the mainstream in recent year, a single system handles numerous different jobs in a single day. Also, each job requires a distinct machine setup. TORNADO® narrows down the adjustment controls to just 3 parts: temperature, airflow volume, and shutter (preheat unit). All controls feature a digital display, so the same outcome can be achieved regardless of who adjusts them.
Advantage of shrink packaging
Compared to direct printing to a container, shrink packaging promotes recycling. Not only plastic shrink films, but also cans and bottles can easily be recycled.
TORNADO® also handles all types of shrink film including PET, OPS, and other environment-conscious films.
入会のご案内
日本包装機械工業会では包装材料メーカー、包装関連機器メーカーさまのご入会を随時受け付けております。
包装機械を通じて、人々の健康と社会に貢献することを願って、包装機械業界の発展に寄与していただけるメーカーさまのご入会をお待ちしております。
お問い合わせ先
| | |
| --- | --- |
| TEL | 03-6222-2275 |
| FAX | 03-6222-2280 |