DAIICHI HOUSOUKI CO., LTD.
Factory / Sales Headquarters:
1570-1, Negane, Hasuda-shi, Saitama 349-0131, Japan
Phone: (048) 792-0850 FAX: (048) 792-0851
Iwatsuki Factory:
86-2, Otosunahara, Iwatsuki-ku, Saitama-shi, Saitama 339-0014
Osaka Sales Office:
2-14-11, Hiyoshi-cho, Moriguchi-shi, Osaka 570-0081
Phone: (06) 6967-8340 FAX: (06) 6967-8341
Nagoya Sales Office:
5-7, Shioji-cho, Mizuho-ku, Nagoya-shi, Aichi 467-0003
Phone: (052) 680-9473 FAX: (052) 680-9474
URL: http://www.daiichi-housouki.co.jp
E-mail: info@daiichi-housouki.co.jp
PRODUCT INFORMATION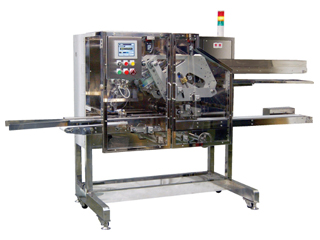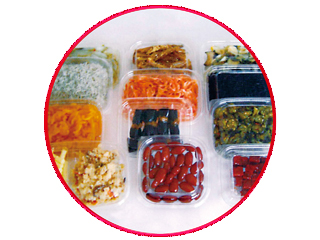 FKR-2SP (Packaging Related Equipment)
DAIICHI HOUSOUKI CO., LTD.
FEATURES
With this Model, a cup lid is supplied from directly above and fitted to the cup, making it ideal for sealing a cup that contains a protuberant mass of food products.
・ Can be used for a variety of food products.
・ Every size changeover can be made easily by turning a dial
・ A dial position memory function is installed.
・ Hygienic cup sealing by using stainless steel for most part of the machine body.
・Can be used for food products including lightly or heavily pickled vegetables, Chinese pickles, pickled bamboo shoots, macaroni (with potato), salads, dried whitebait, small dried shrimps, bean-curd waste (unonana), foods boiled down in soy (tsukudani), sea tangle, dried foods, processed marine products, processed farm produce, daily dishes, etc.
SPECIFICATIONS and NOTES
・Operating speeds: 30~60 cups/m (depending on various preconditions)
・Machine dimensions: Approx. 2,300 (L) x 860 (W) x 1,770 (H) (depending on specifications)
・Power consumption: 3-phase 200V, 400VA
・Air consumption: 0.4~0.5 Mpa, 90L/min (A.N.R)
・Cup dimensions: Max. 150 (W) x 180 (L) mm
・Optional accessories: Lid fitting state inspection equipment
DAIICHI HOUSOUKI CO., LTD.
Factory / Sales Headquarters:
1570-1, Negane, Hasuda-shi, Saitama 349-0131, Japan
Phone: (048) 792-0850 FAX: (048) 792-0851
Iwatsuki Factory:
86-2, Otosunahara, Iwatsuki-ku, Saitama-shi, Saitama 339-0014
Osaka Sales Office:
2-14-11, Hiyoshi-cho, Moriguchi-shi, Osaka 570-0081
Phone: (06) 6967-8340 FAX: (06) 6967-8341
Nagoya Sales Office:
5-7, Shioji-cho, Mizuho-ku, Nagoya-shi, Aichi 467-0003
Phone: (052) 680-9473 FAX: (052) 680-9474
URL: http://www.daiichi-housouki.co.jp
E-mail: info@daiichi-housouki.co.jp
CORPORATE PROFILE
入会のご案内
日本包装機械工業会では包装材料メーカー、包装関連機器メーカーさまのご入会を随時受け付けております。
包装機械を通じて、人々の健康と社会に貢献することを願って、包装機械業界の発展に寄与していただけるメーカーさまのご入会をお待ちしております。
お問い合わせ先
| | |
| --- | --- |
| TEL | 03-6222-2275 |
| FAX | 03-6222-2280 |