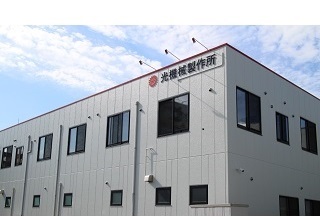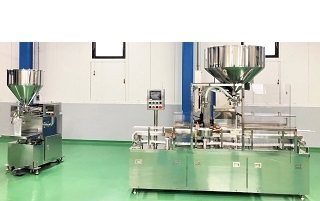 HIKARI KIKAI SEISAKUSHO LTD.
Head Office
34-1, Nishikojiya 3-chome, Ota-ku, Tokyo 144-0034, Japan
Phone: 03-5735-6250
Fax: 03-5735-6251
Osaka Business Office and Plant
8-17, Haradanaka 1-chome, Toyonaka City, Osaka Prefecture 561-0807, Japan
Phone: 06-6195-3245
Fax: 06-6195-3263
Company URL:https://hikari-kikai.co.jp
For the past 75 years since its founding, Hikari Kikai has been consistently dedicated to the manufacture of filling machines. Throughout these years, the company has been united together to pass down this mindset of dedication and has been developing a wide variety of filling machines based on its technology and tradition nurtured over the years.  The company will continue to do its best to respond to the requests of the customers while anticipating their needs by gathering relevant information and by putting into practice the company philosophy of manufacturing "reliability, safety and hygiene first" equipment.
Hikari Kikai's products are now patronized by some 5,000 customers throughout Japan and by overseas customers in countries in East and Southeast Asia such as China, Korea, Taiwan, Viet Nam, the Philippines and Indonesia.
About Hikari Kikai Co., Ltd. Company Profile
| | |
| --- | --- |
| Business outline | Hikari Kikai was founded with the aim of manufacturing those industrial machines that contribute to labor saving and is developing, manufacturing, maintaining and distributing mainly automatic fixed quantity filling line machines. |
| Founded | March, 1946 |
| Incorporated | January, 1950 |
| Capital | 10 million JPY |
| Affiliated companies | Phoenix Co., Ltd., Sunrise Co., Ltd. |
| Website | https://hikari-kikai.co.jp |
Product Line (HIKARI brand automatic fixed quantity filling machines) Automatic Yokan (Japanese sweet jellied adzuki-bean paste) Filling and Packaging Line Machines including Small-sized Filling Machines Cake Dough Squeezers for Baking Tray Automatic Jelly Filling and Packaging Line Machines Dedicated High-viscosity Paste Products Filling Machines (for Monaka An (bean jam for round wafer), Miso (soybean paste), etc.) Mizu-yokan (soft bean jelly) Cup Filling and Sealing Machines Dedicated Liquid Filling Machines (for cosmetics, alcoholic beverages, etc.) Margarine Cup Filling and Inner Sealing Machines Solid Product Filling Machines (for flesh of fruits, coarse sweet bean paste, etc.) Butter Cup Filling and Sealing Machines Dedicated Marine Product Filling Machines (for fish paste, Mozuku Seaweed, Negitoro (tuna paste with chopped green onion), etc.) Miso (soybean paste) Cup Filling and Sealing Machines (lid placing type) Chocolate Enrobers (pump and disk types) Miso (soybean paste) Cup Filling and Sealing Machines (trimming type) Cooling Tunnels (equipped with refrigerant apparatus and outdoor unit) (manufactured to order) Automatic Monaka An (bean jam for round wafer) Filling Machines Designing and manufacturing of a wide range of other automatic machines Pouch Forming, Filling and Sealing Machines
入会のご案内
日本包装機械工業会では包装材料メーカー、包装関連機器メーカーさまのご入会を随時受け付けております。
包装機械を通じて、人々の健康と社会に貢献することを願って、包装機械業界の発展に寄与していただけるメーカーさまのご入会をお待ちしております。
お問い合わせ先
| | |
| --- | --- |
| TEL | 03-6222-2275 |
| FAX | 03-6222-2280 |