ICHINEN CHEMICALS CO., LTD.
Head office:4-2-8 Shibaura, Minato-ku, Tokyo 108-0023 Japan
TEL:+81-3-6414-5600 FAX:+81-3-6414-5620
R&D center:660 Miyamae, Fujisawa, Kanagawa 251-0014 Japan
TEL:+81-466-29-1781 FAX:+81-466-29-1780
Kanto factory:13-9 Okazato, Koga, Ibaraki 306-0206 Japan
TEL:+81-280-98-2131 FAX:+81-280-98-0684
Harima factory:47-3 Niijima, Harima-cho, Kako-gun, Hyogo 675-0155 Japan
TEL:+81-79-437-3061 FAX:+81-79-435-5720
Our company was founded in 1953, started with sales of Marine Fuel Additives. Since established, we develop various eco-friendly products to contribute for improvement in the life of people and the earth consciousness. It is certain we have been creating large variety of chemical products respond to customers' needs in various fields.
We will further devote ourselves to R&D based on our principle of speedy and consistent manufacturing at customers' need, positively expand our sales network from domestic to overseas market.
To aim at a sustainable and most reliable company, everyday we do our best based on the company compliance.
PRODUCT INFORMATION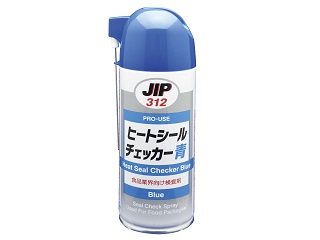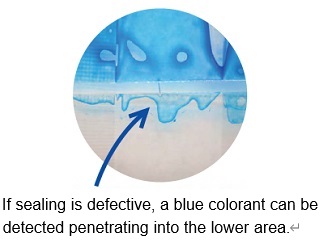 HEAT SEAL CHECKER BLUE
ICHINEN CHEMICALS CO., LTD.
FEATURES
Are you sure of or satisfied with the reliability of your hermetic heat sealing quality for individual food packaging?  Let us take care of your seal inspection needs with our safe and reliable "Heat Seal Checker Blue" which has been used with good results at major food-producing plants.
Product Features
The raw material for our "Heat Seal Checker Blue" is entirely made from foodstuffs or food additives.
A blue food colorant almost non-existent in food materials is used, which has an improved penetration capability.
Does not contain any highly soluble mineral oil, ester oil, hydrocarbon (aromatic, aliphatic), dimethyl ether, etc. Reduced odor.  Capable of accurately inspecting sealing quality without eroding sealed portion.
Use of a water-soluble food colorant makes removal and rinsing off of the colorant after inspection easier than when oil dye is used.
Various food contamination-proof measures are adopted.
SPECIFICATIONS and NOTES
Product Specifications
・ Product ID number: 000312 Product name: "Heat Seal Checker Blue"
・ Amount contained: 220ml, Class 4 Petroleum No. 1, Water soluble, Danger level II 110ml
・ The spray can be used upside down.
・ A foldable stainless steel nozzle
・ A blue color spray cap
ICHINEN CHEMICALS CO., LTD.
Head office:4-2-8 Shibaura, Minato-ku, Tokyo 108-0023 Japan
TEL:+81-3-6414-5600 FAX:+81-3-6414-5620
R&D center:660 Miyamae, Fujisawa, Kanagawa 251-0014 Japan
TEL:+81-466-29-1781 FAX:+81-466-29-1780
Kanto factory:13-9 Okazato, Koga, Ibaraki 306-0206 Japan
TEL:+81-280-98-2131 FAX:+81-280-98-0684
Harima factory:47-3 Niijima, Harima-cho, Kako-gun, Hyogo 675-0155 Japan
TEL:+81-79-437-3061 FAX:+81-79-435-5720
CORPORATE PROFILE
入会のご案内
日本包装機械工業会では包装材料メーカー、包装関連機器メーカーさまのご入会を随時受け付けております。
包装機械を通じて、人々の健康と社会に貢献することを願って、包装機械業界の発展に寄与していただけるメーカーさまのご入会をお待ちしております。
お問い合わせ先
| | |
| --- | --- |
| TEL | 03-6222-2275 |
| FAX | 03-6222-2280 |