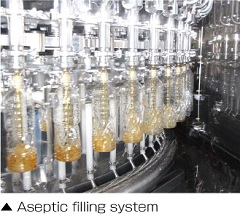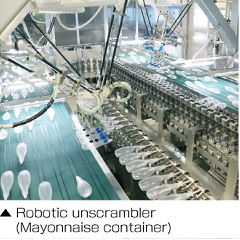 SHIBUYA CORPORATION
INTERNATIONAL PLANT SALES DIV.
Mameda-honmachi, Kanazawa 920-8681, JAPAN
TEL:+81-76-262-1615   FAX:+81-76-223-1795
SHIBUYA HOPPMANN CORPORATION
7849 Coppermine Drive, Manassas, Virginia 20109, U.S.A.
TEL:540-829-2564  FAX:540-829-1726
SHIBUYA CREATES THE WORLD'S MOST ADVANCED BOTTLING AND PACKAGING TECHNOLOGY
As a leading manufacturer of Bottling and Packaging systems Shibuya has always striven to develop new technology. This innovative technology has fuelled new high performance systems for use in the Food, Pharmaceutical, Cosmetics and Toiletries industries. These systems have provided higher standards of quality, productivity, efficiency and flexibility. One example of such technology is the high speed aseptic filling system for PET bottles developed from Shibuya's original filling and capping technologies.  Another example is robot-incorporated flexible Filling/Packaging system, which is highly evaluated as a world's leading technology.  Shibuya sees the creation of innovative bottling and packaging systems of uncompromised reliability and quality as a challenge in satisfying the needs of our customers
towards the new tomorrow.
入会のご案内
日本包装機械工業会では包装材料メーカー、包装関連機器メーカーさまのご入会を随時受け付けております。
包装機械を通じて、人々の健康と社会に貢献することを願って、包装機械業界の発展に寄与していただけるメーカーさまのご入会をお待ちしております。
お問い合わせ先
| | |
| --- | --- |
| TEL | 03-6222-2275 |
| FAX | 03-6222-2280 |